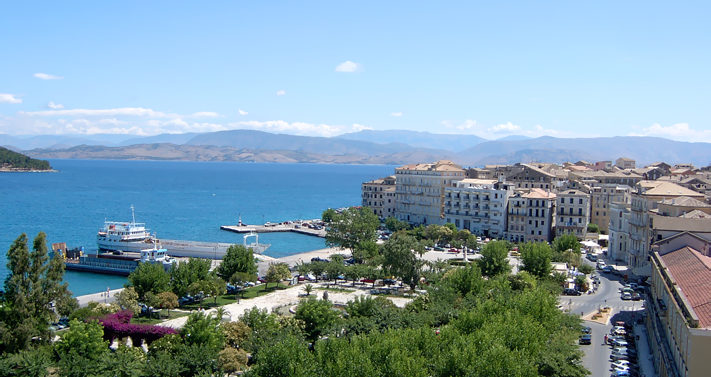 And on to Corfu...
We spent a few relaxing days enjoying the pool and the air conditioning in Nidri, before it came time to pick up the one-way rental car from Green Motion. The people in the Green Motion office in Nidri are always lovely, in contrast to the officious woman in the office in Igoumenitsa, who always seems to be trying to sell me additional insurance, or upsell something or other. We pick up a car in Nidri or Igoumenitsa, and drive it, one-way to the other location. We have the car for an average of three hours, and they charge us €70 for the privilege. It's a great service, but I'm really starting to wonder if Avis might not be a better option, to avoid the hidden costs.
We loaded up the car and went to examine Nikea. We were delighted to find that Rabbit's fibreglass guy had indeed finished the hull, and what's more, had done a fantastic job. I had wanted him to just repair the damage I had done, with a view to repairing all of the crazed gelcoat some day in the future. Obviously that message was lost in translation, and he repaired the entire transom. That made the quote of €500 more palatable. The transom looked like new. He had also painted it (probably because he couldn't match the gelcoat colours, which is a tricky job). Overall, it looked like new, which is great. While I parted with a lot of cash (for the fibreglass, laundry, diesel and new dinghy), Ruth took to cleaning the deck and Ben went in search of his beloved kittens who live in the boat park. By the time she was done, the boat looked fantastic, ready for Mike.
By around 1PM, we were packed up and on the road to Igoumenitsa and the car ferry. We checked into our usual haunt in Corfu, which is the Hotel Atlantis, and went wandering through the old town. It is a labyrinth of narrow streets featuring interesting shops and tempting tavernas. We arrived back at the hotel fairly late, and watched Iceland beat England in Euro 2016. Not a good week for them, in fairness. The next morning, we flew out of Corfu airport and back to Dublin.
We're now back at home, in the rain, and it almost seems like a vague dream. I will pick up the blog from the perspective of the Achilles, now that our annual trip to Nikea has concluded.