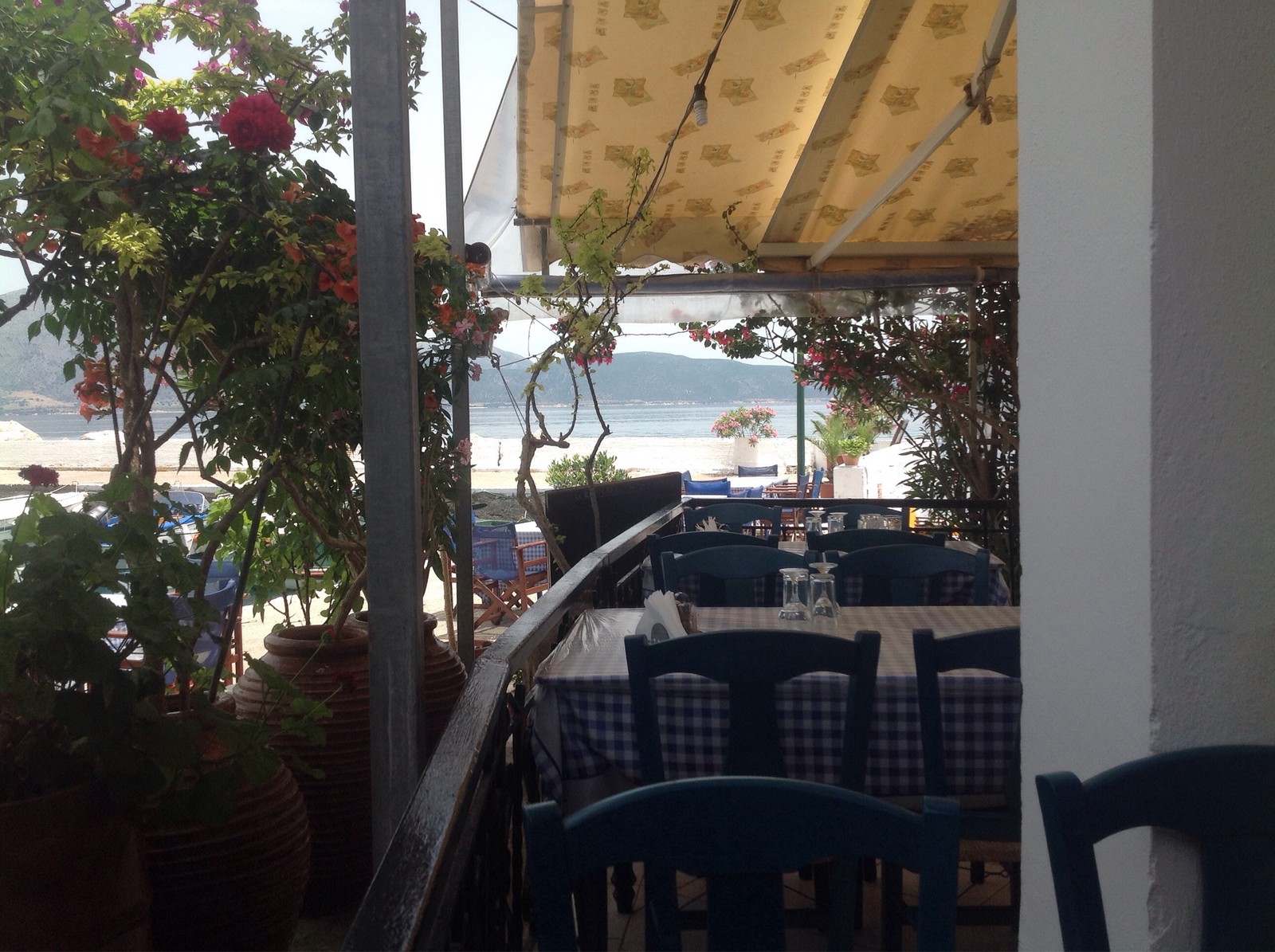 Hot in Kalamos
Kalamos, Greece. We took Tim's advice. We decided to go to Kalamos. The advantage of Port Atheni is you can swim off the boat. The disadvantage is that without a dinghy, you're a bit isolated. Kalamos is stern-to. Today is the hottest day so far. It's approximately 38 degrees with no wind. I was up early for a provisioning run, which involved the steep climb to the village of Spartochori, which boasts beautiful views and a hard climb. Not the best thing to do in the midday sun, so I was up early. We developed a slight issue with the holding tank, and created a toxic aroma in the vicinity. Holding tanks are de rigeur in Greece and a good idea, besides. The heads (toilets for you land lubbers) pumps into the holding tank, and when you're suitably offshore, you can pump out the tank. It's all a bit icky, but a necessary evil if you want a toilet on the boat. We haven't really been using the heads as all the tavernas have showers and toilet facilities so there's no need. However, as Morgan once explained to me, sometimes sea creatures like algae or plankton will get trapped in the inlet pipe, and die. In the heat, it will go off pretty quickly and when you do use the heads, you're pumping in methane-rich sea water. That's probably what happened, and it helped us to get out of Spartochori pretty quickly, both to open all the hatchs, and also to avoid an embarrassing scene. While I was scaling Mount Spartochori, the other two ran for cover. They closed all the hatches and had breakfast at the Taverna. When I returned, we fired up the engine and made our hasty exit. Once offshore, we opened all the hatches, pumped out the holding tank and pumped in some treatment goo. The smell didn't last very long, and it was nice to get away before 10AM.
We hugged the shore of Meganisi as we left, and a large, ugly motor cruiser came blazing past. There is no love lost between motor boaters and sailors. These people did nothing to help their cause. As we were close to the shore, we couldn't keep far enough away from them. For their part, they were honking along at about 15 knots or higher, ploughing a dirty great big hole in the azure water. In the US, people like this are called "chequebook captains" although they spell it slightly differently. People who can afford the obnoxious boat and the huge fuel bills, but are too cheap to take any lessons or learn how to share the seas. They blitzed us with a one metre high bow wave, which I had to turn in to quite sharpish. The boat slammed over the unnecessary bow wave, and pushed a wall of water back along the hull. The hatches were all open, for the aforementioned reason, so we took about a bucketful of water down through the forward hatch. The idiot in the power boat was unaware or uninterested in the havoc he was creating, behind his stern. It is often amazing how little attention motorboat drivers pay to the huge bow waves they send through pristine harbours or quiet waterways. They are too busy showing off, it seems. Having said all that, there are some very experienced motor boat drivers and some idiot sailors too, but there are fewer barriers to owning a motorboat, so they go from land lubber to power boat owner without so much as an instruction manual. Oh well. No damage done. We introduced Ben to a few new swear words, and set about cleaning up.
The slight breeze on the water was on the stern, which meant there wasn't enough to fill the sails and not enough to cool us off. The good news was that Kalamos was pretty empty (and very hot). My novice crew managed their first stern-to without any hassle at all. No raised voices, no hissy fits, all very calm and relaxed. I think the other two were calm and relaxed as well! George was as welcoming as ever. We tied off, put out the gangplank (it has a proper French title which I can never remember) to allow us to stroll ashore, and we put up the big tent-like thing over the boom. I've carried this on board every time I've been here, and it has annoyed me more than once as it clutters up the coachroof. We were glad of it today, though. The heat is quite oppressive and its only just after 2PM. We had three showers and are now relaxing in the shade with bottled water and Greek coffee.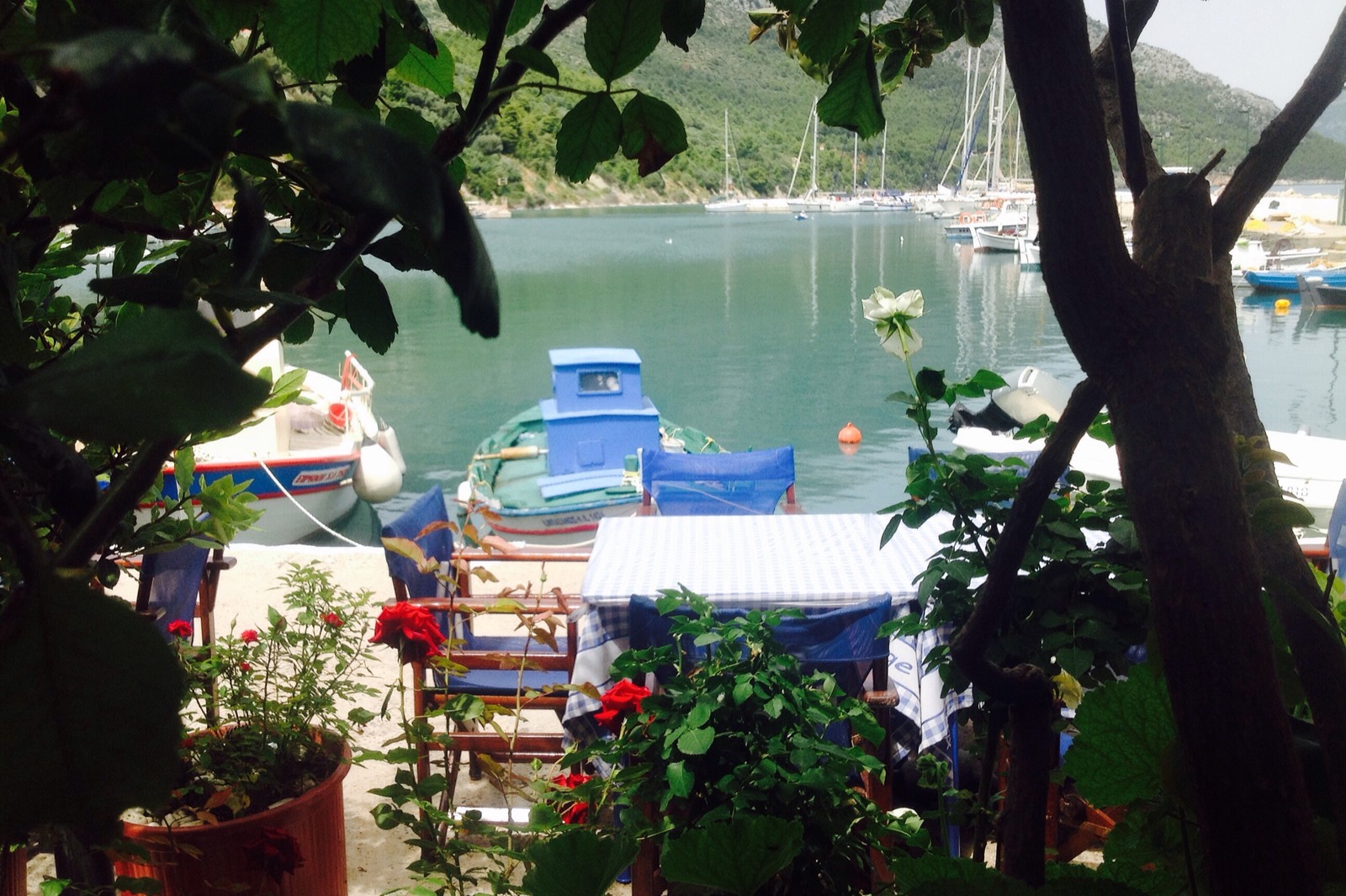 Later on, we will wander in to the village, maybe go for a swim, and have dinner at George's Cafe. We will see if we stay here tomorrow or continue on to Kastos or even Port Atheni. There are a few minor maintenance jobs to do, so a day here would suit, provided it's not too hot.