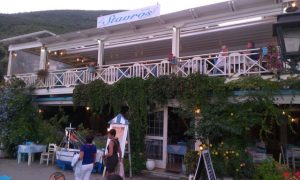 In less than a week, we fly (once again) to Corfu. As Tim documented on his blog, the usual route from Ireland to Nydri (where Nikea lives) is via Corfu. Aer Lingus fly around once or twice a week from Dublin to Corfu. From there, a quick taxi ride from the airport brings you to the sea port in Kerkira (or Corfu town), where ferries leave for Igoumenitsa on the Greek mainland about every thirty minutes. From there, it's either a taxi or a one-way car rental to Nydri and on to Vlicho. All in all, it's something of a long day, with an early flight out of Dublin (and a two hour time difference). The flight departs at around 6AM Irish (Summer) time, and we'll arrive at the boat, around 5PM (Greek time).
Of course, who notices all that travelling when your destination is a sailboat in the Ionian Sea?
We usually stop for provisions in Lefkada, which is the main town on the Lefkas peninsula. Generally, we don't tend to eat dinner on board, so it's breakfast and lunch supplies, along with a lot of frozen water, wine and beer. I know, I know, most people refer to "frozen water" as ice, but it's not ice in the chunked or cubed sense. They take two litre bottles of water and freeze them. I think that's pretty amazing, seeing as I (and others who will remain nameless!) have a habit of forgetting that I stuck a bottle of white wine into the freezer, and remembering two days later when there's a cork firmly embedded in something and the freezer is covered in frozen wine. The water bottles seem to be designed to be able to take the expansion. For the physics-challenged, ice has a lower density to water, which is why icebergs float. It also means that the same mass of water will occupy more volume, thus forcing the cork out of the wine bottle, or bursting the plastic water bottle. The great thing about frozen bottles of water is they bring down the temperature of the fridge, fairly quickly. They also help it to stay cold.
We'll spend the first night on board, and probably visit The Office, which is a lovely and unassuming restaurant close to where the boat is berthed. Wednesday, we'll make the short trip to Spartochori. From there, who knows? I'm already looking forward to a swim in the bay of Spartochori, which is on the Northern end of Meganisi. Not to mention the nice village at the top of the hill, the restaurant right on the water, or the cocktail bar right next door.