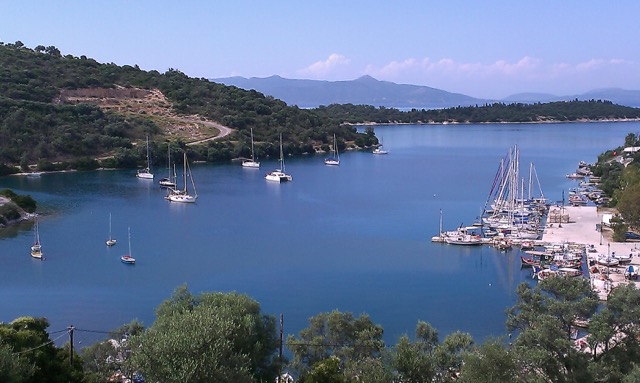 Now would be a good time to introduce "Nikea," a Beneteau First 345. While Irish-registered, she has spent her life in the sheltered Ionian Sea, "gunk-holing" from island to island. I co-own the boat with a small consortium of friends. We take it in turns to spend time with her, going from island to island, port to port and anchorage to anchorage.
One of my favourite places is the island of Meganisi. I like the anchorage at the North-East corner, in a place called Port Atheni. I am also very drawn to the village of Spartochori and the delightful quayside "bows-to" berths on the southern-end of the bay.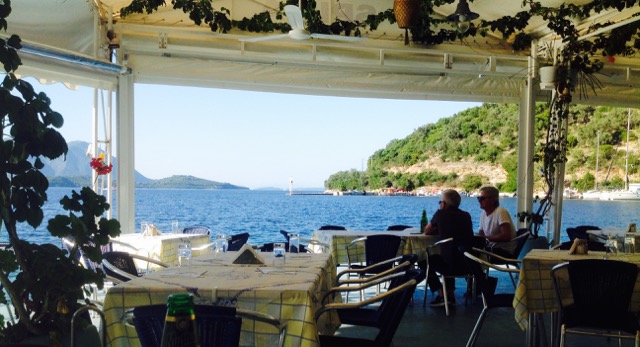 <figcaption class="wp-caption-text">A favourite place for a relaxing meal and a half-carafe after a day's sail.</figcaption></figure>
Stern-to mooring is an acquired skill, and it's hard to acquire the skill if you're only doing it a handful of times a year. Of course, a secret ambition might be to live on a similar boat and spend my days practising bows-to and stern-to mooring.
Nikea is of 1980's vintage, and in relatively good shape. There is a lot to be said for co-ownership, especially when the boat is in foreign waters, away from regular use. All costs are evenly distributed between the consortium members, which makes for a smaller maintenance bill each year, but also allows us to have certain freedoms which aren't generally available when you have to pay all of the upkeep costs yourself. In particular, the gruesome task of antifouling is usually performed by the yard who manage and babysit the boat when we're not there. Arriving down to a pontoon to jump on board a boat with fresh laundry, newly antifouled and launched, cannot be over-stated. It's the closest thing to actually chartering a boat, without the horrendous expense of a charter.
I joined the consortium in 2014, and managed to spend almost four weeks on board, that summer. Last year, I managed around 18 days of pleasant sailing and beautiful anchorages. This year, I may only spend two weeks on board, but more about that, later.